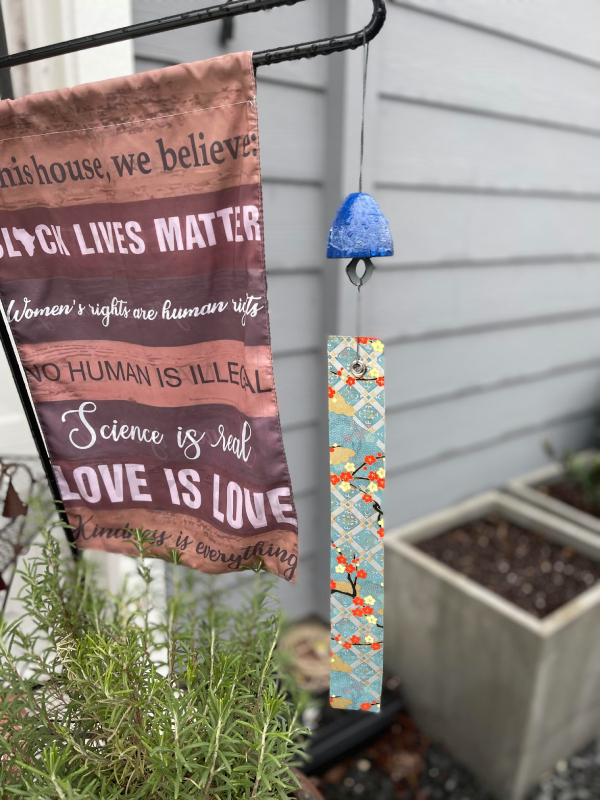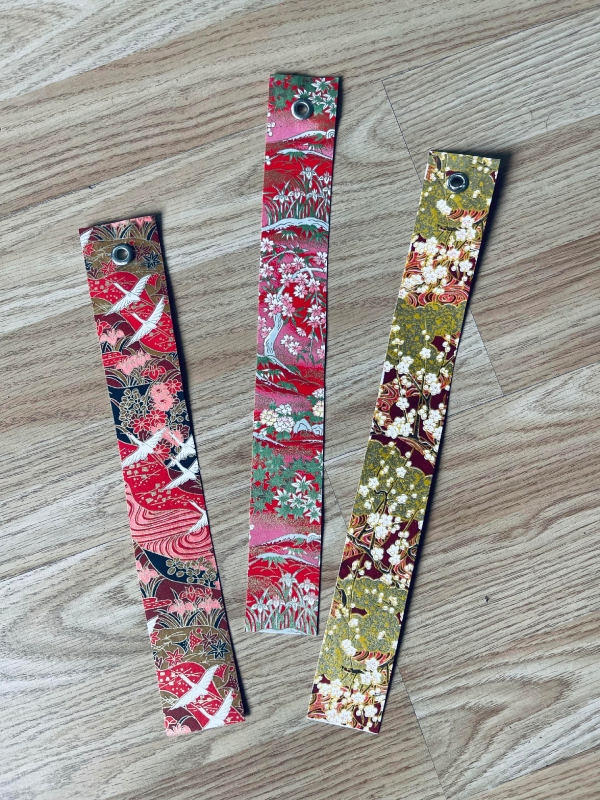 So one of this week's projects is to make new windcatcher strips for the numerous furin (small iron Japanese bells) that I have all around the property.
I love bells; elementally, I'm an earth/water/fire person, without a lot of Air influence, so having things like furin bells, flags, and other things that move according to the whimsy of Air are a strong counterbalance for me. (It's no coincidence that two of the most influential people in my life,
Julie Nathanielsz
and the late, much missed
Dee Simpson
are and were Geminis, the epitome of changeling Air.)
When you buy a furin, a "standard" plain or printed paper strip comes in the box. But, I don't like those. I've always really loved Japanese chiyogami/yuzen washi paper, so I decided to make my own furin strips. I usually make them in batches so that I have a supply on hand; they take a bit of time to make, as you have to double fold and adhesive them, cut them and then grommet them by hand.
Okay, you don't HAVE to do those things. I do those things and it was a process to find the paper, the right grommets, and the right grommet tools i the beginning. (Nevertheless, she persisted.) I am a maker and always have been; my "other mother" culture, Vietnam, is top to bottom a maker culture, and this runs deeply in my own blood.
You might not be able to see it in the photos but chiyogami paper is gold embossed, which means that it creates this beautiful, glimmering effect when it turns in the breeze. I have a long history of working with Japanese paper in installation art projects and did this a lot during the years I studied with
Thana Lauhakaikul
at UT Austin in his installation sculpture classes. I still have the intention to create an installation to submit for consideration to the
Austin Studio Tour
, or simply for people I know to enjoy, at some point. Obviously COVID has put a huge dent into this plan but all the drawings and ideas I have are sitting safely in notebooks, simply waiting for me to take a full year of my life to create yet one more thing that won't make me any money (lol).
Such is the life of an artist. It is what it is. You know what they say about artists: We really don't get old, we run around doing cool shit until we suddenly fall over dead.
Sounds fine to me.